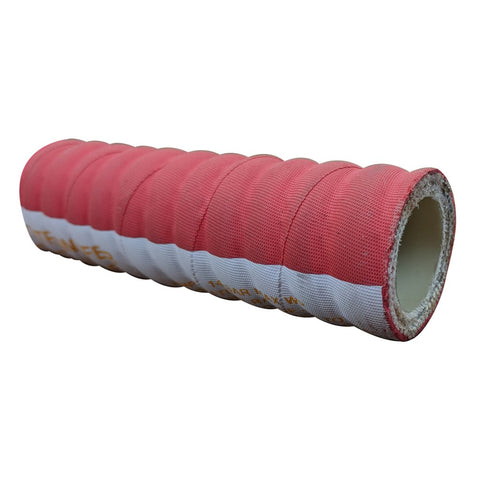 PR19 (Hose Only) 1" Novaflex 6404CU Hose
Recommended for special applications that require smooth tubes and easy to clean surfaces. Meets REACH and ADI standards. Recommended for the food transfer application that demands flexibility and ruggedness with a clean white FDA ultra high molecular weight polyethylene grade tube.
This food grade tube is odourless and tasteless for all those all purpose transfer applications. This hose is suitable for alcohol concentrations above 96% and is ideal for distilled spirits or liquor. The ultra smooth microbe resistant tube is built on special stainless steel mandrels for cleanliness. 
Specifications
Construction: Tube: FDA UHMW - odor and tasteless (non-oily applications)

Reinforcement: Multiple plies of polyester synthetic textile with helix wire

C

over: Red EPDM.

Temperature Range: -40°C to +116°C. (Cleaning In Place to 248°F (+120°C)

Not for use with steam

Inside Diameter 25.4 mm (1-inch)
Outside Diameter: 36.6 mm  
0.8 kg/m
Manufactured in Canada
 *Price per meter*
Tri Clamp Hosetail HERE
RJT Hosetail HERE
Jubilee Clips HERE
Please contact us to purchase
---