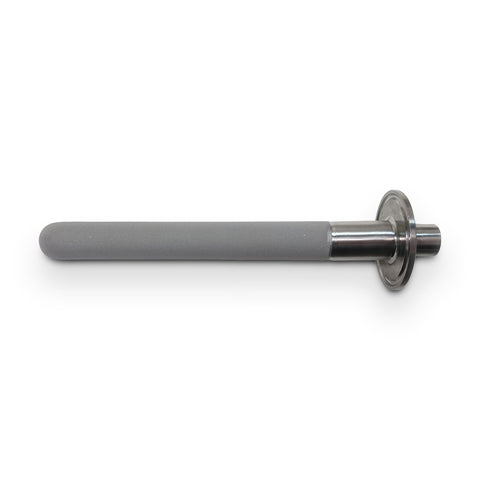 PR01 Carbonation Stone (Aerator Device)
Sintered stainless steel element: gas (typically oxygen or CO2) fed in through a side-branch dissolves in liquid flowing around the element.

Standard device has a 150mm long sintered stainless steel element with 2-micron pore size. Typically, sufficient for oxygenation of wort, or carbonation of beer or water to 2.5 volumes at 20 to 30 litres per minute.
Efficiency of dissolution of gas depends on gas pressure, liquid temperature, flow rate and line pressure.  Usual technique is to set up the device in a recirculation loop, pumping from and back to a tank.
Specifications

Material: Stainless steel 
Carbonation stone length: 150mm
Carbonation stone outside diameter: 20mm
Connection: 1.5" Tri Clamp
Gas inlet: 1/4" BSPf
Tri Clamp Sightglass available HERE
Tri Clamp Gaskets available HERE
Tri Clamp Clamps available HERE
Usually available on a next day delivery service
Other configurations on request - please CONTACT US
CO2 level testers HERE
RJT adapters, BSP adapters, Clamps and Gaskets available HERE
---